Why Temple Green in Oragadam is the ideal location for your dream home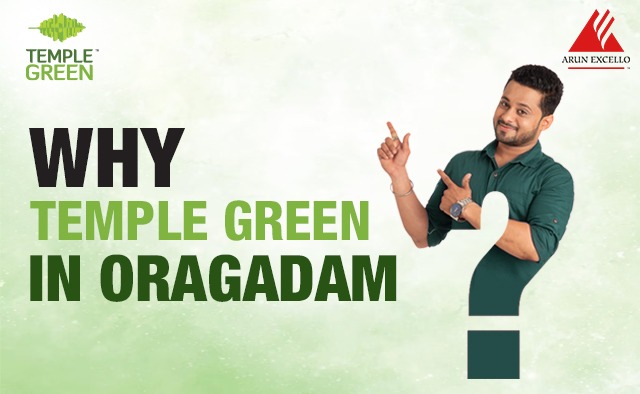 Temple Green, a premium gated community located in Oragadam, is an exceptional place to live. Here are eight reasons why:
1. Enjoy Township facilities within the Gated Community:
Temple Green is a well-equipped integrated township that offers residents access to world-class facilities which make life more enjoyable, convenient and comfortable.
2. Location: Oragadam
Oragadam is a rapidly developing area that is fast becoming one of the most sought-after locations in Chennai. It is strategically located at the gateway of Chennai City, which makes it an ideal location for people who work in the city but want to live away from the hustle-bustle of city life.
3. Proximity: Close to Educational Institutions
Temple Green has a CBSE school, PS Temple Green Vidhyashram, within the township. This is a huge advantage for parents who are looking for quality education for their children. The school offers classes from LKG to Xll Std, which means parents don't have to worry about their children's education.
4. Connectivity: Singaperumal Koil & Sriperumpudur (NH4)
Temple Green is located near two national highways, which makes it easy to travel to and from the city. This connectivity ensures that residents can reach any part of Chennai quickly and easily. The region is a real estate hub, with a wide range of industrial, logistics, commercial, residential, and plotted developments. With world-class infrastructure already present in the region, Oragadam is a prime location for investment.
5.ROI: Assured Returns on Investment
Investing in Temple Green is a smart decision as it offers assured returns on investment. The gated community is developed by Arun Excello, which is a reputed builder known for its quality projects.
6.Facilities: Street lights & stormwater drain
Temple Green is equipped with all necessary facilities like street lights and stormwater drains. These amenities ensure that residents have a safe and secure surrounding.
7. Facilities: Good portable ground water
One of the biggest advantages of living in Temple Green is the availability of good portable ground water. This means residents don't have to worry about water shortages or the quality of the water.
8. Well laid out plots with black topped roads
The villa plots in Temple Green are well laid out and come with black topped roads. These roads make it easy to travel within the gated community and ensure that residents have a hassle-free living experience. Temple Green is located on the booming stretch of Oragadam and is well-connected to the rest of the city via the 6-10 lane road, making it easily accessible.
In conclusion, Temple Green in Oragadam is the ideal location for your dream home because of its location, connectivity, facilities, and more. With Phase IV of Green Acres now open, you can craft your own haven in this premium gated community and enjoy a luxurious lifestyle.